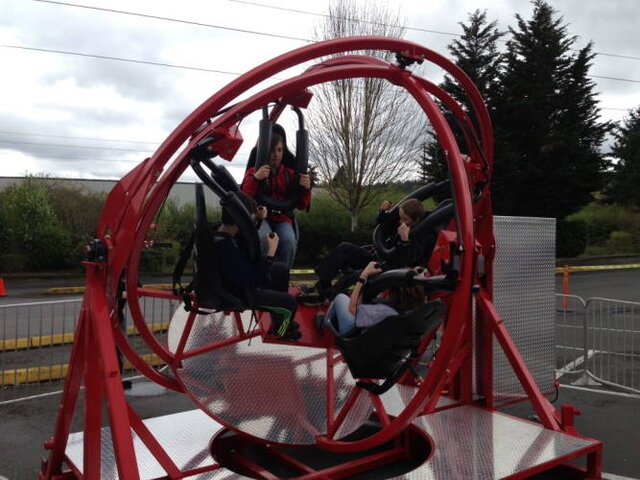 4 - Spin Gyrosphere Thrill Ride
Actual Size: 12′ x 20′
Outlets: (1) 30 amp 220 v circuit – single phase





Please call to reserve this item

If you've ever wanted to experience weightlessness like astronauts do, then this is the ride for you. But here's what makes it even better: The 4-Spin Gyrosphere from Fun Crew USA is the first of its kind, a gyroscope that lets four people ride at once. This is the perfect addition to any party, fundraiser or festival where you want to offer something unique that will definitely draw a crowd.
Riders sit inside the 4-Spin Gyrosphere as two rings spin, giving riders the rolling, tumbling and spinning motions that lead to experiencing the feeling of weightlessness. How many rides can offer that? It's the next, high-tech step beyond the famous gyroscopes used by NASA astronauts in the space program.
The thrill ride is run by an electronic controlled VFD Drive system. TES will set up and operate the ride for you. This is the top-notch thrill ride that will leave everyone talking about your party for years to come. Contact us to find out more about the 4-Spin Gyrosphere and other thrill rides!