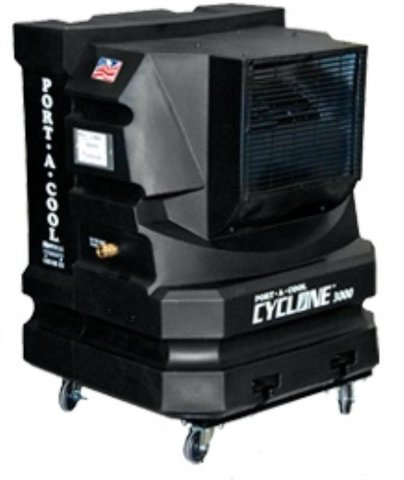 Port A Cool Cooling Fan




Please call to reserve this item

Description
The Port A Cool evaporative cooler is an efficient and environmentally friendly way to cool any space up to 700 square feet. Operating costs of just $0.08 an hour means you can cool all day for less than a dollar in total cost!
Easy to Use
The Port A Cool PAC2KCYC01 Cyclone 3000 has simple and well labeled controls make it a breeze to cool your space!
Durable Casters
The PAC2KCYC01 features four durable casters, two of which lock in place to keep the cooling where you need it most.
Adjustable Louvers
Eight adjustable louvers let you direct air for a precise control of your cooling. Make the most out of the 3,000 CFM 1/3 HP motor!
Small Footprint
Compact design with powerful centrifugal fan gives you unparalleled cooling for the size of the unit.