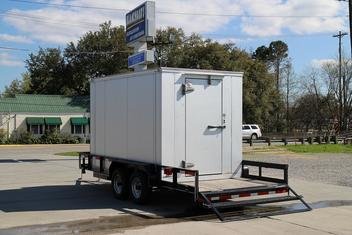 Portable Refrigeration Unit Rental




Please call to reserve this item

TES has exciting news! We have branched out into more trailer rentals than just our restroom trailer. All our trailer rental inventory has been moved to our new business Open Trails Rentals. Please click HERE to be directed to the new website.
Our Rolling Cooler has solved the problem of finding extra on site portable refrigeration unit. This onsite standard 110V plug in refrigerator freezer trailer provide 24 hour a day access to your goods while they are in a temperature controlled storage environment at your location. And all this, delivered directly to you at your location!
No Diesel Fuel Used Ever and No Per Hour Usage Meter Charges, one price for the entire rental period!
"It's a walk in cooler on wheels": Specializing in the rental of Mobile Cold Storage; temperature controlled refrigerator freezer trailers; Tennessee Event Specialist's Rolling Cooler delivers walk in cooler trailers for any refrigerator or freezer need. Whether your cold storage need is temporary or long term, Tennessee Event Specialist's Rolling Cooler provides an ideal solution for onsite temperature controlled storage. We offer a mobile cooler/freezer that will fit into a single parking space. For a reliable walk in cooler unit, you have come to the right place.
Our Rolling Cool unit works on a standard 110 volt 20 amp extension cord and can maintain a temperature as low as 0 degrees to 10 degrees (depending on outside ambient temperature). No diesel fuel refueling or charges to deal with. We set your desired temperature for either refrigeration or freezing into the temperature control and it is ready to use. In addition, our Rolling Cool unit has extra insulation to make it as efficient as possible and all of that can fit into a single standard parking space at your location.
Perfect for any application where temporary refrigeration or freezing is needed. No electricity at your location? No problem for our Rolling Cooler as we have designed our trailer to be outfitted with a generator to serve your electric needs.
Can be used as:
Emergency Refrigerator Freezer Back Up Equipment
Cold Storage
Commercial Cooler
Commercial Freezer
Commercial Refrigerator
Outdoor Refrigerator or Freezer
Restaurant Refrigerator or Freezer
Walk in Cooler
Walk in Freezer
Walk in Refrigerator
Our Mobile Freezer Storage Rental Unit is perfect for:
Distribution
Bakery Goods
Beer, Wine and Beverages
Dairy
Flowers and Plants
Florists
Fresh Produce, Berry Crops and Farming
Grocery Stores and Meat Shops
Meats, Poultry, Seafood and Ham
Food Catering at Any Type of Event:
Amusement Parks, Carnivals and Fairs
Catering Companies
Conventions
Country Clubs and Golf Tournaments Outdoor Events
Church Functions Family Functions School Functions
Sports Functions Parties with a Tent Weddings